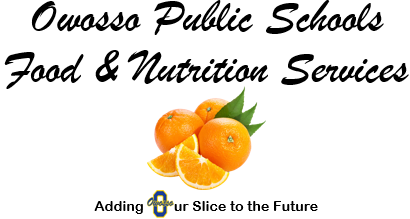 Dear Parents:
This year, we are renewing our commitment to making sure that all of our students are fully prepared for academic success. As we all recognize that hungry children cannot learn, the first step is ensuring that all students begin the school day with a nutritious breakfast at home or at school.
The School Breakfast Program is free to all students that attend Owosso High School, Owosso Middle School, Lincoln High School, Emerson Elementary, Bryant Elementary and Central Elementary and Bentley Bright Beginnings. These supervised meals meet all government nutritional guidelines. Serving times are below:
Bright Beginning's- 8:00am
Emerson- 8:30 am
Bryant- 8:45 am (served in the classroom)
Central- 8:00 am-8:45am
Lincoln 7:00 am-7:45am
OMS-7:00 am-7:45am
OHS from 7:00 am-7:45am
Thank you for helping us to make sure that all of our students start the school day alert, well fed and ready to learn.
Sincerely,
Joy Hartman

Food Service Director
Owosso Middle & High School
Menus are Subject to Change
Due to Supply Chain Issues
It appears that the supply chain crisis that has impacted school foodservice programs, restaurants, and grocery stores over the last two and a half years is not yet quite over. While the supply chain issues seemed to have improved over the summer months for school foodservice programs, schools throughout the country have been placing opening food and supply orders for the new school year and many have not been able to receive the products they need due to the extreme demand. Manufacturers are warning distributors and school foodservice programs throughout the country to prepare for shortages and substitutions for the near future. We continue to work very closely with our distributors and manufacturers on a daily basis to secure both the food and supply items needed to support our program, however the availability of these items is expected to change with little not no notice. While it is our intention to serve the posted menu every day at every school, supply chain issues will not make this possible throughout this school year every day. When changes to the posted school menu become necessary, we will attempt to substitute the scheduled menu item with another that is as similar as possible, to the extent we are able to do so, based on the products we are able to receive.
Please go to https://www.youtube.com/watch?v=sEwOa9Mx7WQ to view this informative video regarding supply chain issues in the US.